Access to the Legislative Building
Visitors to the Legislative Building can view sittings of the Assembly or meetings of legislative committees, use the services of the Legislative Library and the cafeteria, take guided tours of the building, and attend meetings or special functions.  
For more information about access to the Legislative Building, please contact the Legislative District Security Unit at 306-787-2184.
Entry
Visitors can enter through the Legislative Building's main front doors or through the Prince of Wales door, which is immediately west of the main entrance. The Prince of Wales entrance is wheelchair-accessible.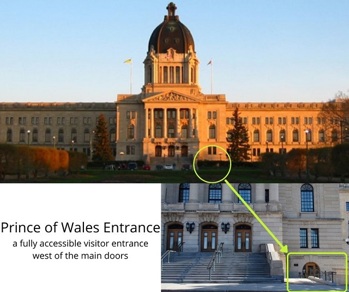 ---
Attending a Legislative Sitting
The Assembly does not meet year-round. Since 2006, the Saskatchewan Legislative Assembly has followed a parliamentary calendar to determine when it will convene. Unless there is an election scheduled, the calendar sets out two legislative phases per year: a 6-week fall period beginning in October, and a 10-week spring period starting in March. In election years, the first session begins at the government's discretion. 
During a legislative session, the Legislative Assembly sits Monday to Thursday. Question period usually begins within 20 minutes of the opening of the day's sitting. There are two visitor galleries from which the public can watch the proceedings of the Legislative Assembly.
Monday and Tuesday 1:30 p.m. to 10:30 p.m., with a recess from 5:00 to 7:00 p.m.
Wednesday 1:30 p.m. to 5:00 p.m.
Thursday 10:00 a.m. to 1:00 p.m.
The Assembly does not meet on designated holidays, including those that occur during a sessional period (e.g., Remembrance Day and Easter). 
Legislative committee meetings are also open to the public. Notices of committee meetings are posted in the Assembly records calendar. Meetings are generally held in the legislative Chamber or in room 8.  
---
Tours of the Legislative Building are available seven days a week with the exception of Good Friday, Christmas Day, Boxing Day, and New Year's Day when the building is closed. The tours are available in English or French and there is no charge (maximum capacity of 15 people at a time). 
Summer Hours
Victoria Day weekend (May) to Labour Day weekend (September) - every 30 minutes from 9:00 a.m. until 4:30 p.m.
Winter Hours
Labour Day weekend (September) to Victoria Day weekend (May) – every 60 minutes from 9:00 a.m. to 12:00 p.m., and 1:00 p.m. to 4:00 p.m.
For inquiries or to make a booking, call (306) 787-5358 or complete our booking form for tour groups of between 10 and 15 people.
---
Visiting the Legislative Library 
The Saskatchewan Legislative Library provides library services to the Members of the Legislative Assembly and their staff, as well as the officials of the Legislative Assembly, the Saskatchewan public service, and the public.