The Saskatchewan Legislative Building is south of Regina's downtown area, facing beautiful Wascana Lake. It is a walkable distance from downtown, and convenient by public transit or car as well. For cyclists, there are bike racks next to the building's main entrance. 
The street address is 2405 Legislative Drive.
By public transit 
City buses stop approximately every half hour on Albert Street, just across from the Legislative Building. From there, it is a 100-metre walk to the entrance of the Legislative Building.  Regina Transit >>
By car
From Albert Street, turn onto Legislative Drive. Alternatively, from Broad Street, turn onto Lakeshore Drive.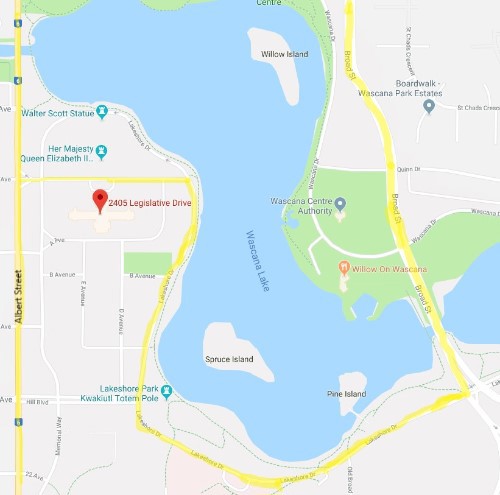 Parking
On Legislative Drive, 2-hour parking and accessible parking is available in spaces marked for visitors. Please note the restricted parking signs. Stopping at the front doors (in the circle drive) is permitted for dropping off or collecting passengers, but parking is not permitted.  Parking information >>
Accessible entrance 
The Prince of Wales entrance is a fully accessible entry point. It is located at the front of the building, west of the main doors. 
Buses
Buses may park north of the Queen Elizabeth II Gardens. Follow Legislative Drive eastward, and turn left onto Walter Scott Way to continue along the lake to the north end of the gardens.